VIBRATION PREDICTION AND CONTROL
---
SPONSOR: CMS Danskin
PROJECT: Paddington Square, London
COMPANY: WSP
---
DESCRIPTION: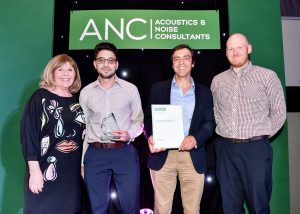 The project used innovative and complex numerical modelling to assess potential changes in vibration levels due to the redevelopment of Royal Mail Group buildings next to Paddington Station.
The project is the demolition of buildings, and the construction of a 17-storey commercial building resting on a podium which is to be connected, via tunnels, to the Underground station.
The complex nature of the underground rail network, which includes numerous curved tunnels and trains travelling at different speeds, meant that the project presented unprecedented challenges.
Cutting-edge vibration modelling techniques were used to investigate how changes to the ground conditions would affect vibration propagation and advanced the understanding and application of those modelling techniques in the process, in order to apply them to the specific constraints and challenges posed by the project.
The approach has been accepted by Westminster City Council (WCC) and can be applied to future projects to identify issues and inform mitigation measures prior to construction, allowing developers and design teams to be proactive with respect to potential vibration impacts.
---
JUDGES' COMMENTS:
The judges recognised the work required to create two numerical 3D models of existing and future conditions, including co-operation with the software developers to enable it to be used for curved tunnels taking into account the change in travelling speed associated with trains departing or arriving at a station.
Collaboration with other members of the project team, contributed to success in discharging the planning condition in relation to vibration. It was good to see a solution that avoided the need for vibration mitigation.
The judges consider that it goes beyond existing good practice and could be applied internationally for future projects.
---