BUILDING ACOUSTICS
---
SPONSOR: H&H Acoustic Technologies
PROJECT: The Houseboat, Lakehouse Drive, Poole
COMPANY: Apex Acoustics
---
DESCRIPTION: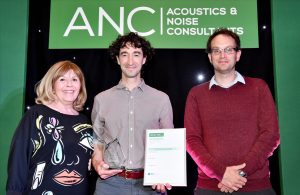 The Solidspace concept for modern living is a split-level, open plan design which demands a new approach to acoustic design, as there are neither references nor literature describing desirable acoustic conditions in such a space.
The acousticians drew on seminal soundscape principles to prioritise the acoustic issues for the users.
The consultants followed the core soundscape qualitative data collection principles of guided interviews and non-participatory observations, as well as reviewing user feedback from previous Solidspace developments.
This approach prioritised users' acoustic concerns and enabled the design to respond to these.
Acoustic modelling and auralisation was used to communicate the acoustic possibilities with the developer.
The radical addition of a soundscape approach to the traditional acoustic design process was pivotal in achieving a transformative design.
The acoustic conditions were significantly improved in the three key areas identified by
occupiers.
Future Solidspace projects will build on the success of the Houseboat. The project demonstrates the power of adopting a soundscape approach to building acoustics design, which has many wide applications.
---
JUDGES' COMMENTS:
The judges recognised this project as an innovative solution applying the soundscape principle to address a building acoustics problem.
Use of auralisation was key so that the client listened to the outcome and helped determine the standard to be achieved. Including social media feedback in the research was applauded.
The client CEO said, "We are immensely grateful to you for helping us to navigate the noise question and understand exactly what we can do about it".
---