Member Focus – Max Fordham
13th May 2016
About
Max Fordham is a multi-disciplinary engineering consultancy established in 1966 with offices in London, Cambridge, Manchester, Edinburgh and Bristol.  We have a team of 10 specialist acousticians the majority of whom are based in our London Office in Camden Town.
The main focus of our work is architectural acoustics but we also undertake a proportion of surveys, pre-completion tests and auralisation work.  The majority of our projects are in the UK plus a few in Europe and the Middle-East.
We are an employee-owned business and more than half of the people who work for the practice are partners in the LLP.  We have won a raft of employer awards including Building Magazine's highest-rated engineering employer 2014 and inclusion in The Guardian's UK300 Best Employers.
Latest News
The practice is celebrating its 50th anniversary this year and we are looking forward to a party in the autumn.
The THIS IS A VOICE audio exhibition, for which we provided the acoustic design input, has recently opened at the Wellcome Collection in Euston.  The new Racquet Centre at the Hurlingham Club in Fulham also opened in April with Tim Henman playing the inaugural game.  We have a number of projects that will be completed in 2016 including a new teaching building for Exeter College in Oxford and Scotland's Sports Performance Centre in Edinburgh.
We have recently won new projects with the University of Cambridge, Geffrye Museum and Lambeth Palace Library.
Two of our open-plan office projects, Thornsett Road in London and 51 Hills Road in Cambridge have just received RIBA and BCO awards.
The acoustics team gained another member in 2015 with Josh Rodell joining us from Salford University.
Flagship Projects
Alexandra Palace (Feilden Clegg Bradley Studios LLP)
The refurbishment at the Grade II listed Alexandra Palace in north London encompasses the Theatre, BBC Studios and the East Court.  The historic 1875 theatre will be brought back to life as a multi-purpose performance venue and the East Court will be refurbished to act as both a grand entrance foyer and flexible space for a variety of uses.
Grand Musée d'Art à Nantes (Stanton Williams)
The museum is being renovated with an extension for the display of contemporary art as well as administrative and curatorial facilities.  We have developed a bespoke light fitting for the galleries that includes a micro-perforated acoustic material between the diffuser and the lamps to absorb sound.
Middle East Centre (Zaha Hadid)
The new building at St. Antony's College in Oxford includes a 200-seat lecture theatre, library, reading room, archive and café.  Natural ventilation is employed wherever possible.  We undertook detailed simulations and sound-field microphone measurements for the lecture theatre.
Images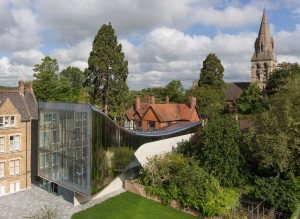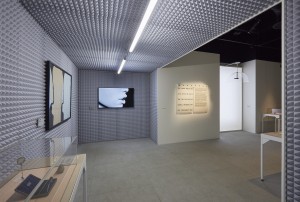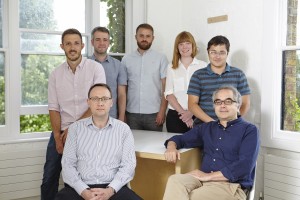 Further Information
Contact Anthony Chilton a.chilton@maxfordham.com